Cloud computing has become the most popular norm among enterprises. With the evolving business models, utilization of cloud computing technologies has been increased largely. Software as service, No investment on hardware, easy/quick updates on software application, scalability, positive return on investment (ROI) and hosting platform as service are the key take ways. Cloud computing is a best bet, if you want to convert your existing software products as services to your client. Clients will benefit with it, as they have to pay only for what they use.
Even before getting into minute details of benefits, advantage and disadvantage, feasibility of using could computing in industrial automation must be taken under consideration. Industrial automation systems of the future have to be adaptable and agile, cloud computing can be considered as a promising solution for this area.
Looking into the Industrial Automation domain core data is classified into two main categories – Real time control data and historical data.
Real- time data: Data responsible for monitoring and control key operation of automation systems. In this layer data being very critical, we cannot push this data directly on cloud as there might be issues of security and response time. So application developed for control has to be deployed in to local systems for quick reference and response in case of any emergency.
Historical data (with no control access):Comparing to real-time there is a larger scope of cloud computation in Historical data. Normally historical data is a growing data and can be extracted on regular interval from control layer ( PLC, DCS and SCADA). This data can be pushed into cloud for logging and analysis. As this data grows, we could reap the benefits of cloud application – we need not bother on hardware requirements, storage and maintenance can be done from single point. As historical data is located centrally we could integrate different locations data into it. Developing and deploying a historian application on cloud will have larger benefits comparing to distributed historian applications.
From the global enterprise perspective, we could see performance of Automation systems by comparing and analyzing data across the location. For e.g. lets take company XYZ is having mobile phone manufacturing unit across the country or globe. Let us assume that the management is interested in comparison of mobiles and net production from different countries. Locations it could be china ( location 1), Italy( location 2), Germany( location 3) and Korea( location 4)till n locations etc.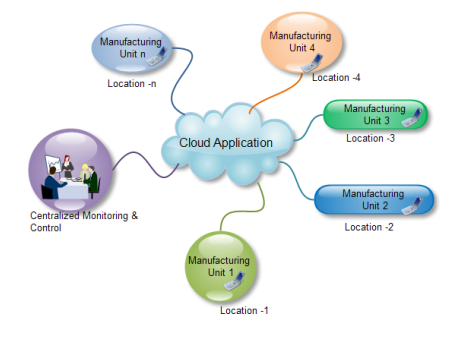 Then all the data points of production details could be aggregated in a single cloud application. This helps in indicating and analyzing KPI's of production cost, manufacturing speed and quality parameters etc. All required data points could be analyzed and improvements could be rolled out on different manufacturing units. This helps in identifying continuous improvements and following the best practices across the different manufacturing units.
 There is no doubt, every new technology trend has something new add and it makes our life bit more simpler but point remains same "Are we bold enough to take this as challenge and ready to take plunge in adopting them ?". Well time will tell us…